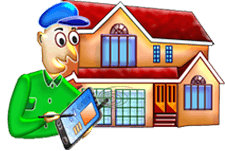 Home Inspector Pro is the premiere home inspection software in the industry. They are constantly innovating new features to keep their users on the top of the market, function on Windows, Mac, iPhone/iPad and Android devices and have supported Certified Master Inspectors® with the best tech support in the industry for over a decade.
Effective immediately, all Certified Master Inspectors® will receive:
$200 off of Home Inspector Pro;
Four months free of the HIP Cloud Service; and
Four months free of website hosting through HomeInspectorSites.com.
This is a special deal available only to Certified Master Inspectors®
To take advantage of this exclusive offer, contact the Home Inspector Pro Help Desk at http://help.homeinspectorpro.com and ask for the special CMI® coupon code.Certified Master Inspectors® only please.
Then go to http://www.HomeInspectorPro.com to download the trial version or make your purchase.
Learn how to use the power of your Certified Master Inspector® professional designation to give your home inspection business a huge boost.